Interview with Barb Page
Greg: Hi Barb. Welcome to our new blog and thank you for taking part in our first guest post.
Barb: You're welcome and congratulations on your new blog.
Greg: Thanks. I've had quite a few people during the 15 plus years that I've known you, ask me questions about you and your involvement with Eddie Van Halen's musical equipment products.
You were definitely fundamental to the success of his guitar and amplifier lines but you always kept a low profile.
Barb: Up until now huh? (laughs)
Greg: Before we begin talking about how you met Ed and how you got involved with the EVH Wolfgang/5150 products, I'd like to know how you're doing since hearing the news of Ed's passing? I know it must have been difficult for you because you were friends and worked together for about 25 years.
Barb: I was devastated by the loss of Edward and really sad about it for a long time. I still am actually and tear up whenever I think about him. He was a wonderful human being and a kind and gentle soul. I really loved Edward like a brother and we went through so much during our time together on both a business and personal level. It was really a privilege to work alongside him for so many years. Thankfully we both had the same sense of humor so we laughed a lot and had fun together even during some pretty crazy moments. I'll always remember his playful nature, infectious smile and the sound of his laughter.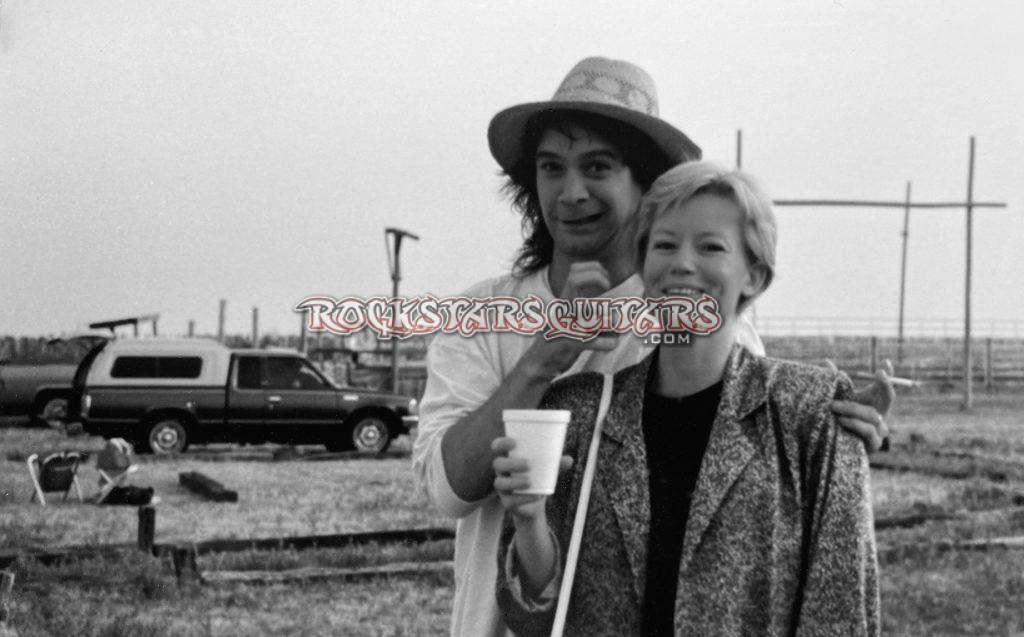 After he passed, I went through a box of mementos and some photos and letters that Edward wrote to me, trying to make sense of what had just happened. As I looked back on everything It was mind boggling to comprehend just how much he accomplished in his lifetime. He made things look so easy but he worked really hard and put in the time and effort to make sure things were done right and to his liking. The guy was truly remarkable on so many levels and he was so humble about his stature as one of rock history's most influential guitarists. His life was short but wide.
Greg: It sure was. There has never been an artist who had the kind of success that Ed had with both his music career and his musical product line. Never!
Barb: I agree.
Greg: How did you meet Ed and out of all the people that he knew in the business why do you think he chose you to team up with? It turned out to be a good decision because his products have become staples of modern rock music and are well respected.
Barb: Yes things really worked out well and what an honor it was to help him achieve some of his goals. I met Valerie Bertinelli at a business management office that I worked at and I knew her years before I met Edward. She introduced me to him a few months after they had met in 1980. I had no idea who he was and never heard of Van Halen. I was into music and spent most of my weekends as a teenager going to rock concerts but Van Halen wasn't on my radar.
A few years after he and Val got married, he had his files transferred over to the business management office that I was working at and his account was assigned to me. Later down the line he mentioned that he was endorsing a guitar for Kramer and he said he also had a guitar string deal with them. I had seen very little money come in so I asked Edward if I could contact Kramer to get an accounting of the sales and he said yes.
I saw that the 5150 string packaging had " Kramer by Ernie Ball " on it so I requested an accounting from both organizations so I could match up the numbers and I found some discrepancies. We also anticipated Kramer filing for bankruptcy after they lost a lawsuit brought on by Floyd Rose, so it seemed like the right time for Edward to move on and explore his options. Kramer did eventually file for bankruptcy.
It was after that when Edward asked me if I'd be willing to help him out with everything. He knew that during the day I was working in an office and that during the evenings and on weekends I was singing and playing guitar in a rock band and playing in small clubs around town. He knew that I was familiar and comfortable with being in and around recording and rehearsal studios and that I was knowledgeable about musical equipment and up to date on what artist was endorsing what product etc. So I think he asked me to help him because he said I was good with figures and that I could somewhat relate to, on a very small scale, the ins and outs of his everyday life as a musician.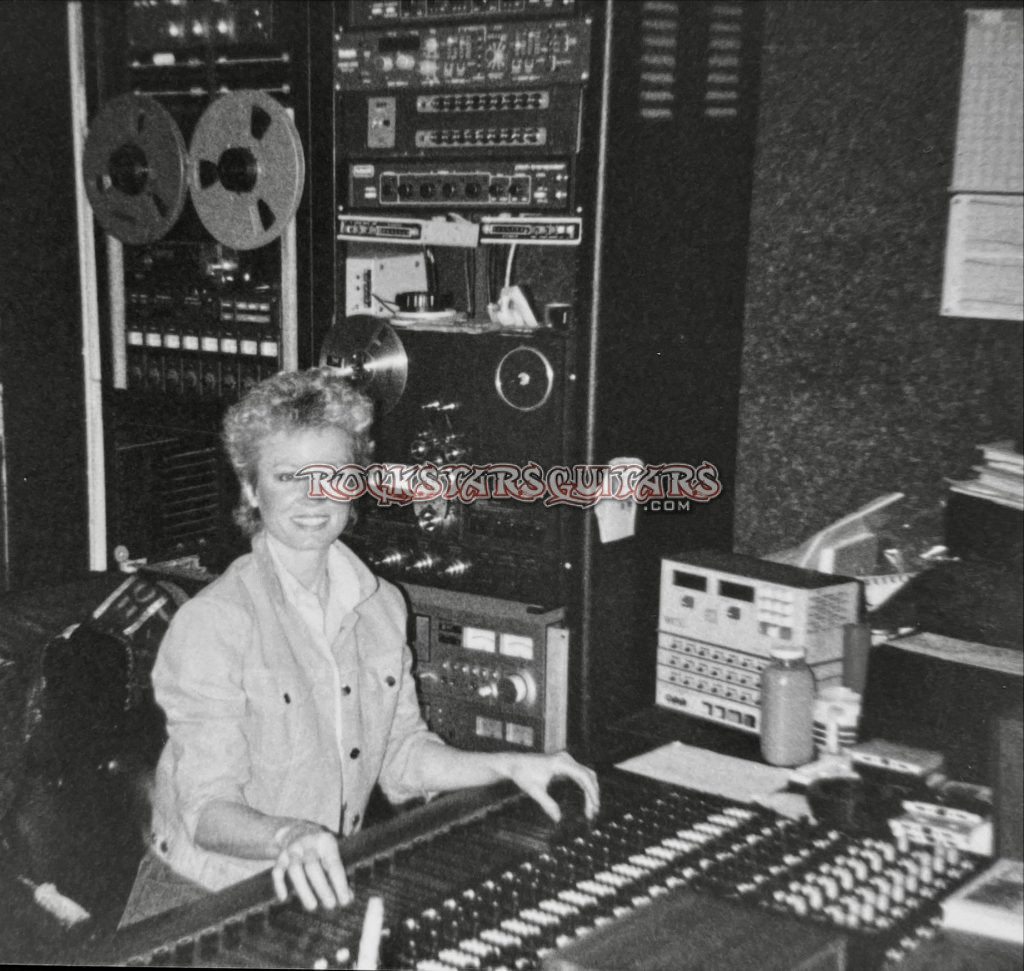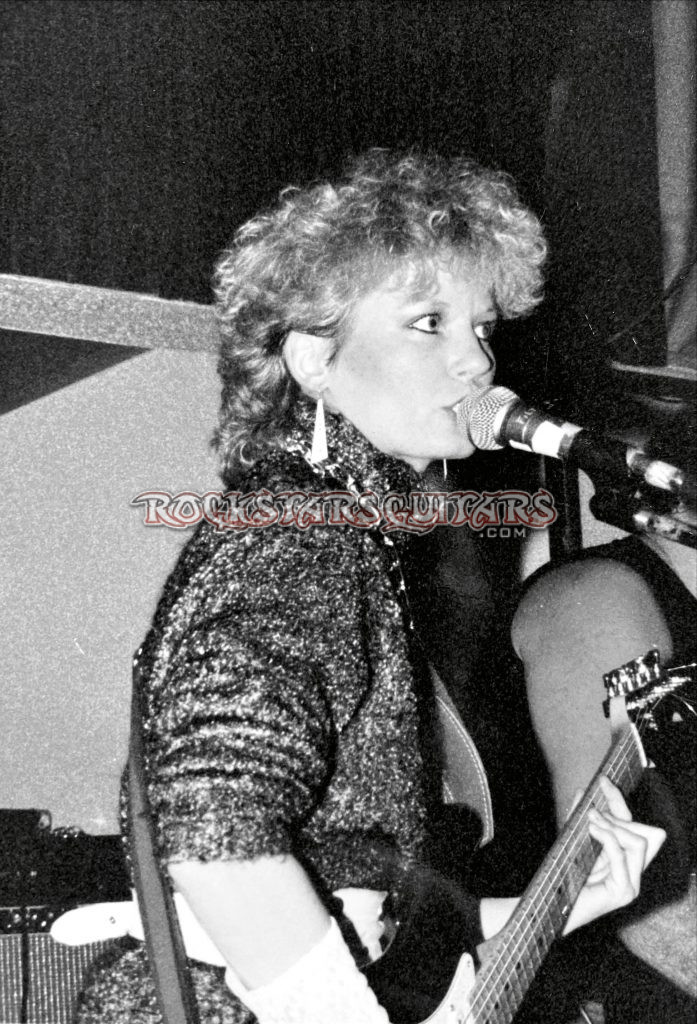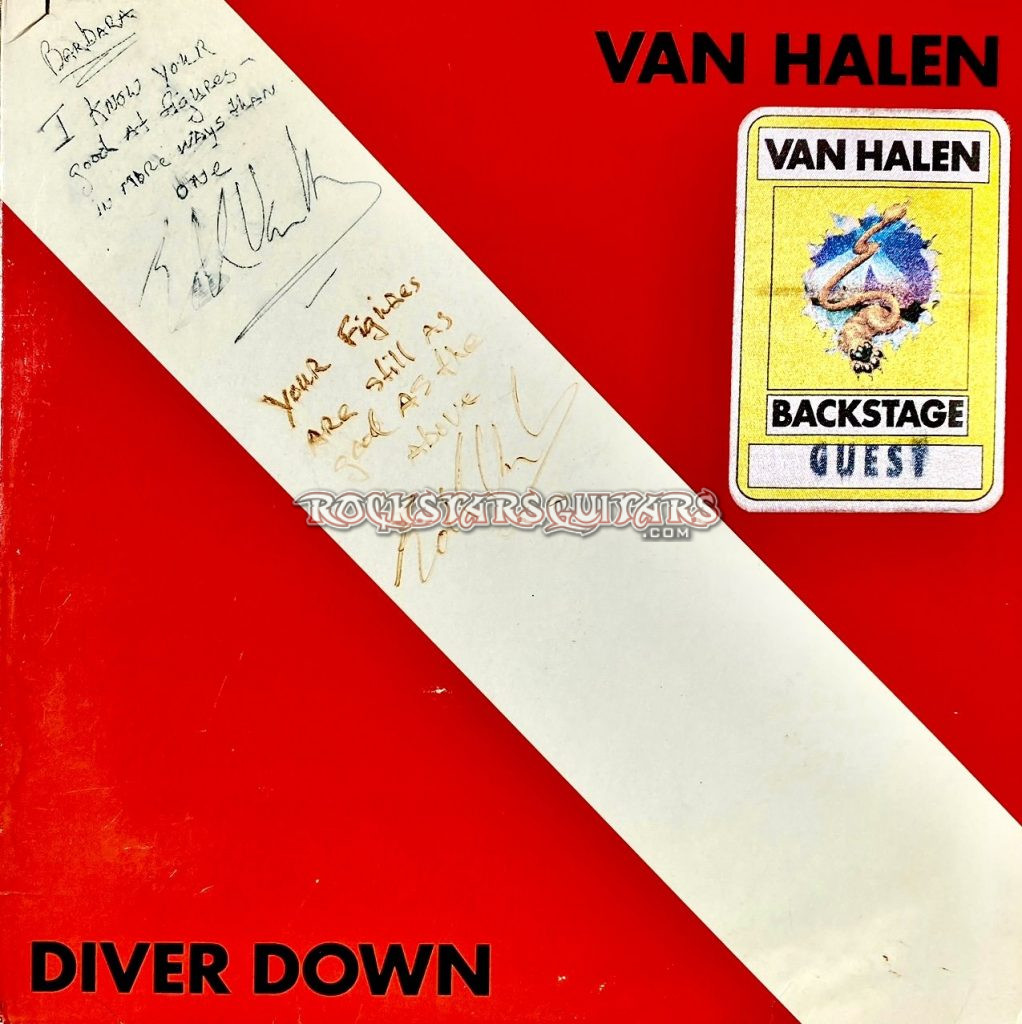 Greg: So why did you decide to go to Music Man and why did you leave?
Barb: I had met Sterling Ball because of the string deal Edward had with him and we had a good rapport. The guitars that Music Man were putting out were top quality, made in the USA and the factory was located up the coast and the roster of players that endorsed their guitars were talented and well respected. So I asked Sterling if he would be interested in making a guitar for Edward that he would design and not just endorse. He was on board with that concept but I told him before Edward would sign on the dotted line I needed to meet with his father Ernie and take a tour of the factory. Ernie Ball was 100% committed to our project and the factory was top notch so we decided to team up with them. Edward worked really hard on the guitar and he was very happy and proud of the finished product. The highly anticipated EVH Music Man guitar debuted at the 1991 NAMM show in Anaheim and was well received.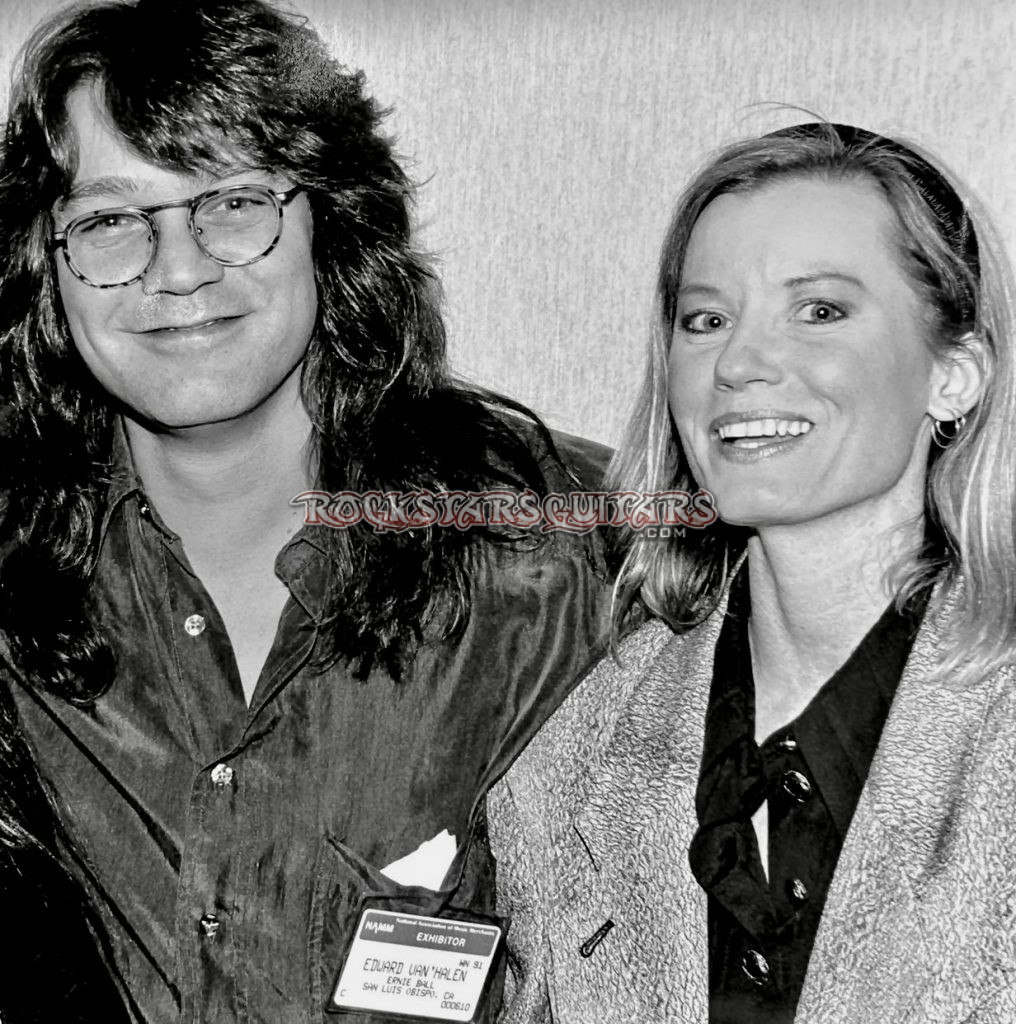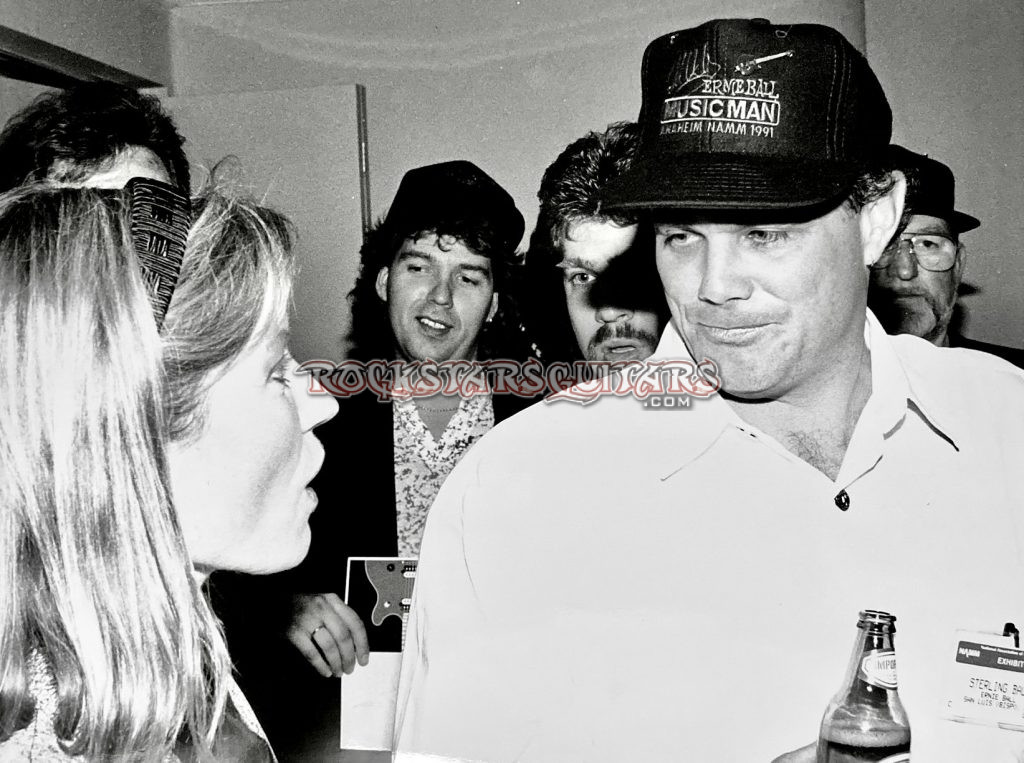 Fast forward 3 years and about 6000 EVH Music Man guitars later. We left Music Man because we had concerns about them being able to keep up with the high demand of Edward's guitars and there were some interpersonal conflicts going on there that just couldn't be resolved.
But as they say, the show must go on (laughs).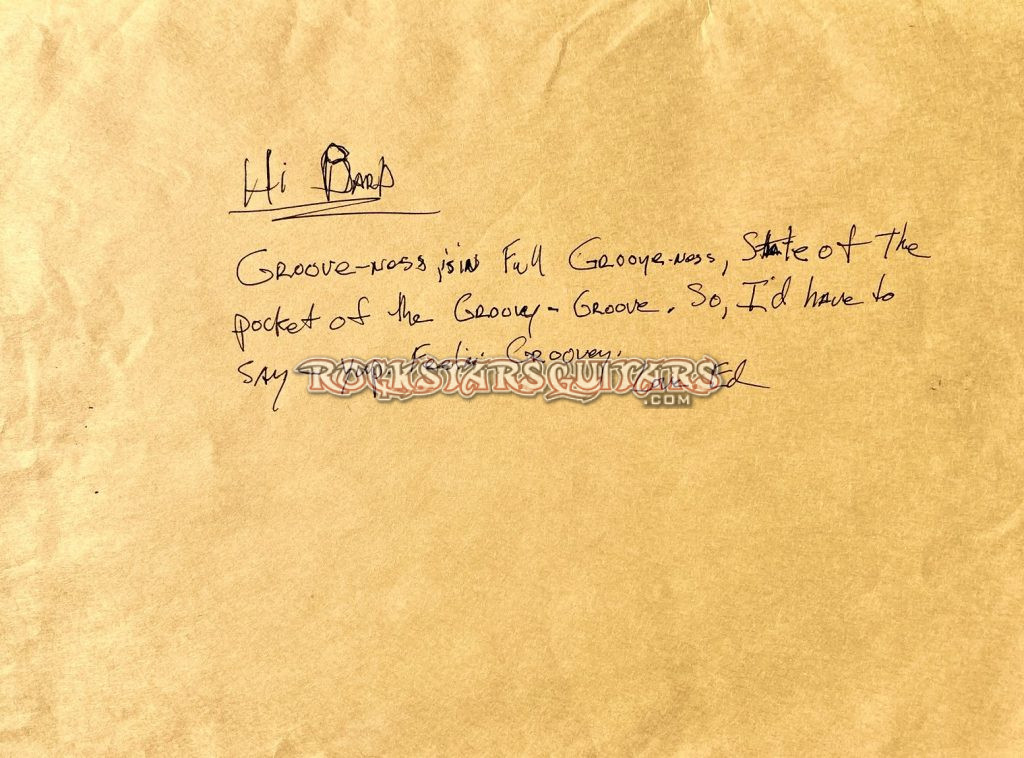 Part 2
Ampeg
Greg: How and when did the amplifier project begin?
Barb: It began in the late 80's. Edward told me that he hired an older man named Jose to build him an amp. He said that he worked with and had known Jose for many years and that he used to work at VOX and Ampeg but now had his own amplifier shop. Edward said that he had some interesting ideas for a high gain amplifier and that he wanted to give Jose the first shot at making him one and to see if he could do it. They both agreed to a weekly dollar amount that Edward would pay to Jose and shortly after that the work on the amplifier began.
Greg: This was around the time when guys who did amp modifications and later created high gain amplifiers were starting to open up their own shops in and around the Los Angeles area and were going into production like Bogner and Soldano.
Barb: Yes that's right. Edward was doing the OU812 tour and during this time I think he was testing out the amplifier and making adjustments to it. After he came home from touring I showed him a spreadsheet that I had prepared of the costs of the amp project since its inception and he saw that the costs were really starting to add up. He had some discussions with Jose about the costs but he still wanted him to continue tweaking the amp and told him that he needed him to finish the amplifier sooner than later. A few months went by and Jose brought the amp up to the studio. Edward wanted me to come up to the studio to see the prototype. Just from the appearance alone I felt that a designer would need to be brought on board because among other things, the bright orange piece of plexiglass that was on it just didn't look very good at all. But aside from the aesthetics, what was most important of course was the sound and Edward said it wasn't there yet.
Greg: That must have been a big disappointment for Ed.
Barb: I think it was. I told Edward that he had the resources to continue on doing the R&D with Jose if that's what he wanted to do, but that if he wanted to come out with a signature amp line anytime soon he would need to team up with a large amplifier company. Edward decided that he wanted to come out with an amp line sometime in the near future and that he wanted to start over from scratch and Jose agreed. Jose knew some people at Ampeg and they were obviously very interested in working with Edward on a signature amp so in February 1990 Ampeg flew us out to meet with them in St. Louis, MO.
Greg: Ampeg? Maybe I missed something but I had never heard about this before. This might very well be a new piece of information for all the Van Halen historians.
Barb: Yes the meeting really took place and a lot of people knew about it so I'm not sure why it was never talked about (laughs). I met with Gene Kornblum the president and owner of Ampeg to talk business, Edward and Jose met up with the amp guys to talk about sound and Val, (who always stayed in her own lane when it came to Edward's business dealings), stayed back at the hotel. Edward invited Michael Anthony to join up with us because Ampeg was having great success with their bass amps and he wanted to introduce Mike to the group.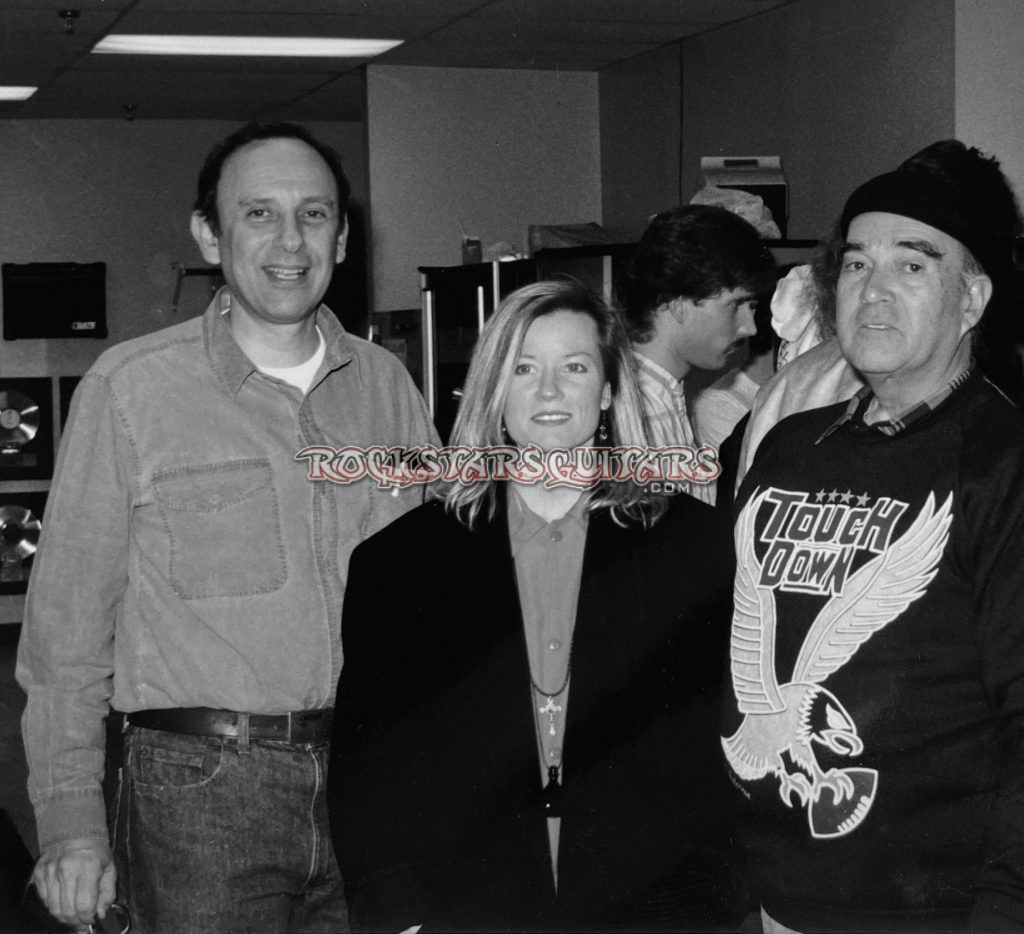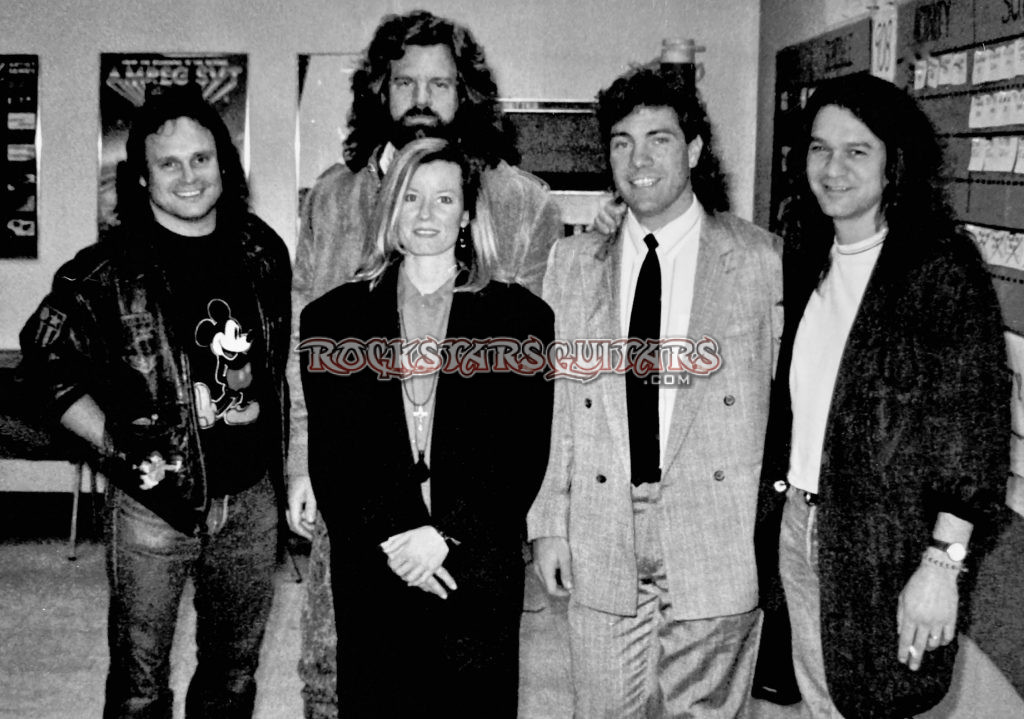 Although all of the guys at Ampeg were great, Edward and I both agreed that we were not a good match and that we needed to explore other options. We thanked Jose for setting up the meeting with Ampeg but I told him I was going to look for a different company to help Edward achieve his goals. Jose was very appreciative that Edward gave him the first opportunity to make his amp and he agreed that Edward needed to move on from him and his small shop to a larger more established amplifier company.
Part 3
Peavey / EVH 5150
Greg: What did exploring your other options look like? Your phone must have been ringing off the hook once word got out that Ed was looking for a company to make him a signature amp.
Barb: Well for me it was most important to understand what Edward wanted and then I would search for the company that I thought would be the best match for him. As it turned out, he really only had two requests. The amp was to be of high quality and affordable for other musicians and he didn't care what company we went to. For me it was important that his amps be made only in the USA and that the company could handle the demand and I needed one person who I could call that could make decisions on the spot and not need to get approval from some board members or lawyers. It was also important to me that Edward was the only significant artist they had so that he would get their full-fledged attention.
Greg: How many companies did you find that checked all of these boxes?
Barb: Just one really…Peavey. So I called Hartley Peavey to see if he would be interested in helping Edward make his amp and he was so honored that we would consider his company. Although Peavey had a reputation of making cheap products and were judged unjustly because they were located in the South, I knew that none of that would matter to Edward because he preferred to take an unconventional route and always sided with the underdog.
Greg: So what was the next step?
Barb: On June 7, 1990, Hartley flew Edward, Val and I out to meet with him and his wife Melia in Meridian, Mississippi. They took us to dinner at an old southern mansion for some authentic southern food and they reserved the whole restaurant for privacy purposes so we were able to talk without any distractions. Hartley and Melia were down to earth and they both had a great sense of humor along with a whole lot of southern charm. We didn't utter one word of business the entire evening and instead just got to know each other on a personal level and it was a very successful first get together.
Greg: That must have been a relief because first impressions are pretty important and can sometimes make or break a deal. So when did you guys finally get down to discussing business?
Barb: Hartley and I had spoken several times before meeting up so we were already discussing what a "win win" situation would look like. For Edward it would be all about having a team to help him to design a quality amp that would characterize his sound and sell for less. For Hartley, I suppose he could get some serious street cred and the reputation of his company could improve quite a bit if he came out with a high end quality amplifier with Edward and that would boost his brand recognition for all of his other products. So with all of this on the line it was probably a real motivator for Hartley to go all in and make certain that this collaboration would be successful.
Greg: That really is a "win win' for the both of them. When did you guys go see the factory?
Barb: The next day. Both Hartley and Melia took Edward and I on a tour of the factory. The whole Peavey operation was massive and very impressive and it was obvious that Hartley did everything on a big scale. He was so innovative and creative and had well over a 100 patents. He was very hands on and just like Edward enjoyed tinkering around with stuff (laughs). Edward also met the team of engineers and I'll never forget the look on their faces when he walked into the room…absolute admiration.
Greg: The flight home must have been interesting.
Barb: It was and that's when we decided that we would team up with Peavey. About a year and a half later the EVH 5150 made its debut and it was a huge success and I'm not sure that either Hartley or Edward could have predicted the way that the amp would change the sound and tone of a lot of music.
Greg: It sure did. The 5150 was requested in recording studios everywhere and it became a staple of the metal sound and it became one of the best selling amps of all time.
Barb: And in addition to the metal sound, Hartley told us that a lot of country players were using the 5150's for the clean tone.
Greg: That's what you call a versatile amp.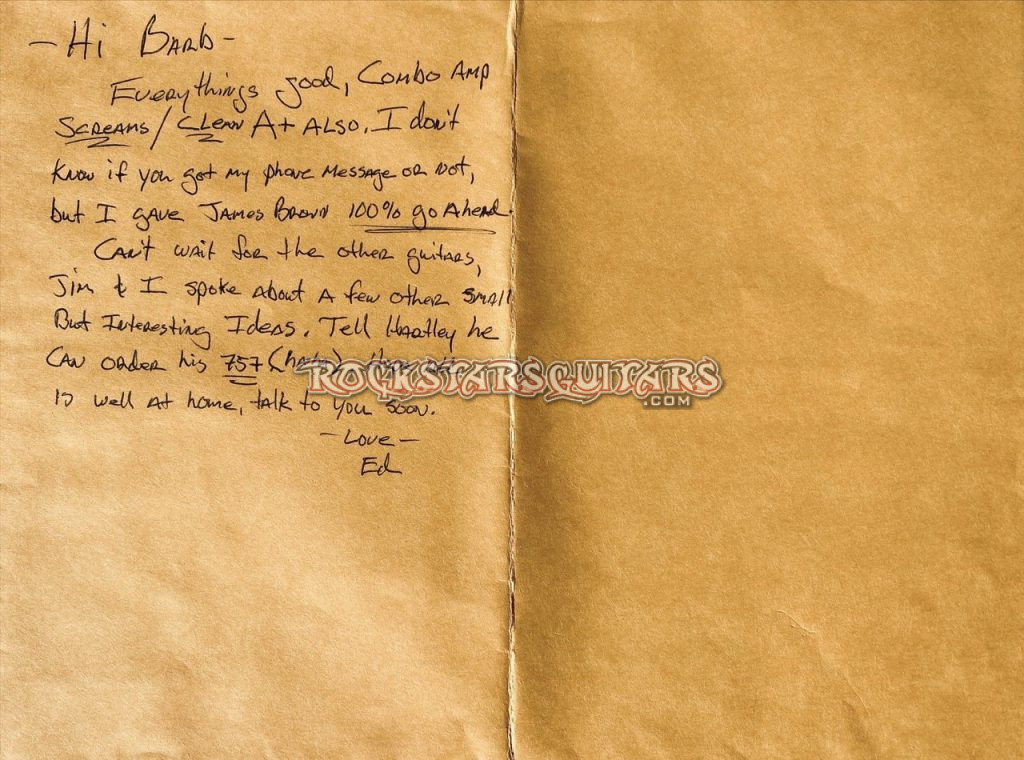 To be continued….